Being a Muslim during the current crisis involves dealing with tremendous hardships for something most can't even control. After the attacks on Paris, there are still a few Muslims who stick to the Islamic State and their ways of operating. As we discussed in class there are several reasons why people join insurgencies that apply to the support for the current Islamic state. The biggest tendency is for their safety because most believe that their lives are in better hands trusting the Islamic State fathoms then to try and revolt against them. A recent poll has shown that "20% of Muslim respondents felt "some" or "a lot" of sympathy for "young Muslims who leave the UK to join fighters in Syria." This shows that the majority of Muslims do not support the fight even though we perceive them all as supporters.
Contradicting to media beliefs the favorable view of Muslims is to not support recent events of the Islamic State. After the attacks in Paris, the media has portrayed Muslims mostly all as terrorists. Even in other countries they deal with hecklers who object them and tell them to leave the country. These Muslims came to these countries for freedom and opportunity and instead get profiled and abused. After the Paris misfortunes, there have been several instances of hate crimes against Muslims such as "In Fife, a man and a woman were violently assaulted by more than a dozen people outside their takeaway shop, their assailants berating them over the Paris atrocities. In a more heartening incident, passengers turned on a bigot yelling abuse at a 23-year-old Muslim woman on a train in Newcastle." This is just a few examples of the everyday violence that Muslims have to live with. All of these social sanctions could factor into a change of support by the Muslim community.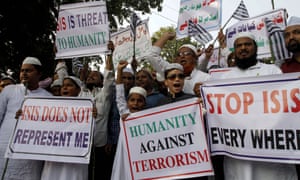 Muslims are now being forced to live in fear based on judgment principles. Most Muslims feelings are that the recent attacks are done by a criminal gang and an obstacle for Muslim faith. However, if the media and people continue to hate crime Muslims they may have no choice but to support the Islamic State because there is no one else who wants their support. Muslims have become a target for ISIS because they want the portrayal of Muslim refugees who are disliked. "Those responsible are not just bigots, but recruiting sergeants for Islamic State. When Isis executes its attacks, it has a script. It knows that Muslims will be blamed en masse in the aftermath." This is exactly what ISIS understands, that if we continue to target all Muslims it could push them right into their hands for support. All of these grievances that are being experienced by the Muslims might lead them right into the fight with ISIS.
Sources
http://www.economist.com/news/middle-east-and-africa/21679152-there-far-less-sympathy-jihadists-rabble-rousers-think-what
http://www.nytimes.com/2015/11/17/world/europe/after-paris-attacks-a-darker-mood-toward-islam-emerges-in-france.html?_r=0
http://www.theguardian.com/commentisfree/2015/nov/25/islamophobia-isis-muslim-islamic-state-paris